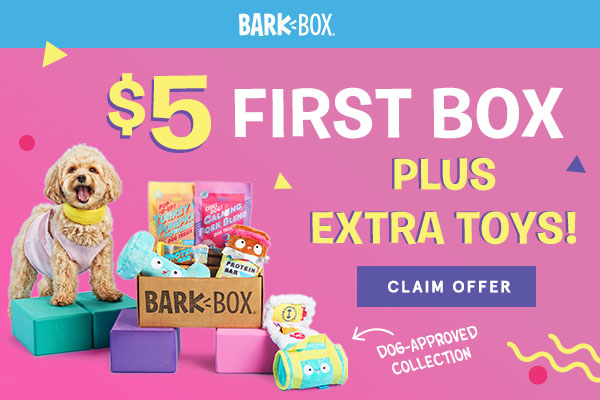 Have you been thinking about signing your best friend (Dog) up for a Barkbox? Now is the best time! Sign up now through June 2nd and receive your first box for just $5 shipped when you subscribe to a 6-month subscription plan!
Even better, every month your best bud will also enjoy a FREE EXTRA TOY in their box + Shipping is always FREE!
(Actual Customer, My puppy Bingo)
My little Bingo is a huge fan of Barkbox. Here he is opening his first box. He was very happy with his new treats and I was actually surprised with the quality of the toys. As you can see, they are pretty big and made from quality material so your pup doesn't destroy them in the first week.
If you're struggling to find time in your busy schedule to stock up your dog's goodie bag, try Barkbox. BarkBox is a subscription service for dog 'parents' who truly love to pamper their pooch.
BarkBox is the leader of the monthly dog box in both sales and name recognition. This company lives up to it name with high-quality, reliable products that deliver canine satisfaction.
They've had over 2 million pups subscribe and best of all, they're one of the least expensive services you'll find.
BarkBox has fun themed boxes. Previous themes include The Knights of the Round Table, Chewrassic Bark, The Good The Bad And The Pugly, Throwback Thursday and more.
(Actual Customers)
After your first box arrives, each box after that will include 2 innovative toys, 2 all-natural bags of treats and a chew centered around a theme. And if your pup doesn't love an item, they'll send a free replacement.
Sign up & get a box of hand-selected dog toys, treats & products delivered to your door each month. You pup will get so excited every time the mailman comes.
Select from their 12 month, 6 month or 1 month subscriptions with the option to cancel your subscription plan length renewal at any time.
Why Get Your Dog A Subscription Box?
Here are just some of the reasons why dog subscriptions are a great idea:
The best, high-quality, all-natural products hand-picked by experts
Items aren't always available at the local grocery or pet store
Skip the hassle of trying to purchase one-of-kind items from specialty shops
Saves you money as items usually cost a fraction of what you'd pay at retail
Fun for you both to unveil what's inside.
Pricing
Box Includes: 5-6 full-sized products
$29 for 1 box
$25 per box for 6-month subscription
$23 per box for 6-month subscription billed once
$21 per box for 12-month subscription